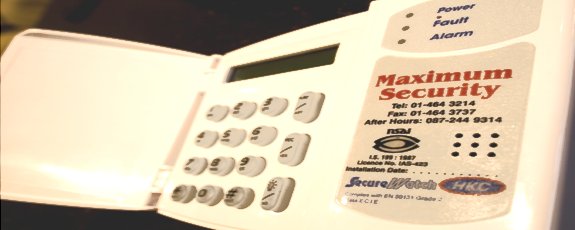 As an alternative to manned security services, a burglar alarm is a wise and inexpensive investment. Not only does it provide personal security, but it also prevents material loss and production downtime. Maximum Security offers a wide range of burglary alarms, all of which meet the same high security specifications.
Burglary alarms prevent breaking and entering, sabotage and vandalism. With the installation of a burglary alarm, personal safety is assured and costs incurred due to disruptions in production and loss of goods and equipment are avoided. Burglary alarms are less expensive than manned security.
Maximum Security markets a wide assortment of burglary alarm systems. These range from addressable complex systems that meet the toughest requirements for security to simpler systems that offer good value for money.
Wired & Wireless Alarm Systems:
Maximum Security is accredited wired and wireless alarm installer (I.S. EN 50131-1:1997). Not only is this required by law but it is crucial that every company maintain the highest standards of care with every installation. Our many certifications are about establishing a quality trust between our customers and our company.